Telephones accompany us at all times and we know that on certain occasions they can be somewhat indiscreet. We all know the possibility of silencing them quickly with an icon on the screen or using the volume keys. It is what we usually do if we find ourselves in the cinema, theater, concert, church, etc.
But very few people know the great number of possibilities that includes the Do Not Disturb function, an evolution of the "mute" option that appeared as unique in the first models of phones.
The latest versions of the operating systems on mobile devices have the "Do Not Disturb" feature that allows us to schedule the silences according to predefined hours and filter out notifications or calls that might be important to ring just the same, among other options.
To take full advantage of all its possibilities, it is convenient to know all the functions that it has. We can locate and configure them from the settings of the phone (iPhone), under 'Sounds> Do not disturb' (Android).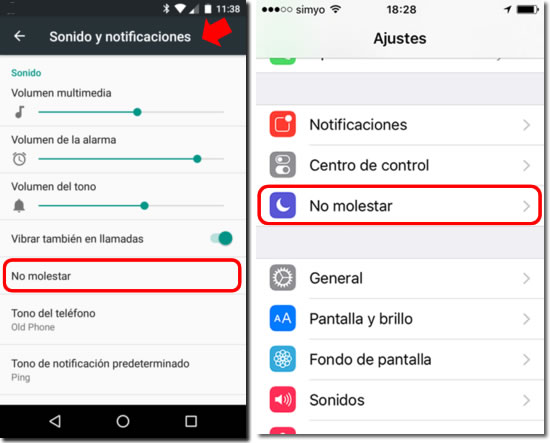 Program do not disturb schedules
Do you sleep with the phone on the bedside table? Can you allow yourself a little nap always at the same time?
Here's the function you need: silence the phone automatically in certain time slots and choose the days you want. We find it on both Android and iPhone.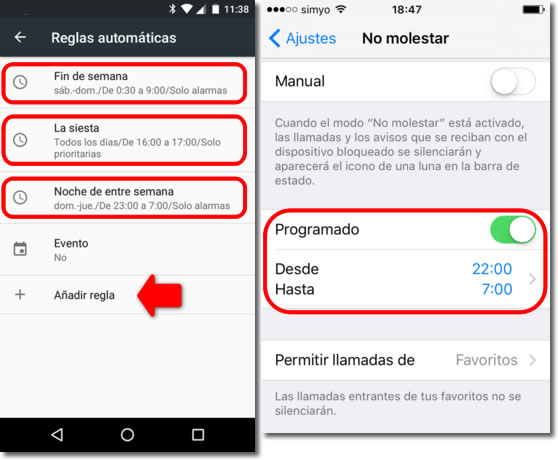 Depending on the system used we will find more or less options. In Android we can configure as many hours as we want, choosing the time slots and the days we want the silence to be activated.
Allow priority calls
In some cases, mute the phone for all calls and messages can be counterproductive if we want to maintain communication with certain people. It is very possible that, even in silence, we want to allow the ringing of calls if they are made by certain people, such as children, parents or other relatives, even if they do so late at night.
This possibility has also been taken into account in the Do Not Disturb setting. We can establish two types of priorities with which to ignore our silence configuration:
Favorite Contacts: We can enable this option so that calls from certain people ring even when the phone has automatically switched to silent. To do this we must indicate which group of contacts have that priority. On Android we can choose from several options, favorites or contacts, all contacts, all or no one.

The most interesting option is to let the calls of our featured contacts (favorites on iPhone) ring. But for it to work, we must mark as highlights those contacts that we want in our telephone directory. This example is from Android, but on iPhone we can also do it in our list of contacts.

Repeated Calls: Another way we can choose to "skip" our mute setting is the possibility that someone will call insistently. Very interesting, because we know that if someone has a need to talk to us, they will repeat the call frequently and the phone will eventually ring, whoever they may be.

In the case of Android, the call must be repeated in an interval not exceeding 15 minutes, on the iPhone, the interval is only 3 minutes long.
In the configuration of the do not disturb function we find some more options, especially in Android, such as the ability to control whether reminders, SMS or event announcements should or should not skip the rules of silence.
To get the most out of this interesting but forgotten feature of our phones, we should spend a few minutes reviewing all its possibilities. After deciding our best configuration, we can be sure that the phone will respect our moments of rest without ceasing to notify us of calls and other important events.