If there is something that dominates children it is a current mobile device, be it a phone or a tablet. At Christmas they have a lot of free time, in which they will use these devices to a greater or lesser extent. The time spent will depend on the age and, above all, on how permissive the parents are.
For those times when we decide to "lend them" our phone or tablet, there is a large number of games and activities related to Christmas. They will surely have many fun times with them, and it will help them feel immersed in the Christmas atmosphere of these dates.
Although in the official store there are innumerable related options, we will discuss some of the most interesting ones that we have found.
Collection of the best known carols in Spanish. This application is recommended for children and adults. Ideal for when we have to sing a carol and we do not know the lyrics.
We can choose a large number of them, all well known, and while the Christmas carol is playing we can read the lyrics and watch a Youtube video with that same song at the top.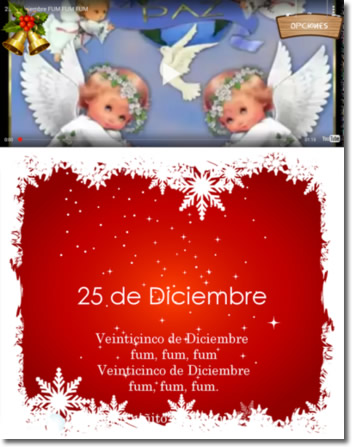 No child has an excuse for not knowing at least the lyrics of a Christmas carol this Christmas. Or at least sing it with this little help.
Do you want to play and even learn to play on the piano a wide variety of well-known Christmas carols?
Through this well-known game that helps one to learn how to play the piano through colors that fall on the keyboard, it is possible to do so. In this application, designed especially for Christmas, we find a good number of Christmas themes with which to have a fun time. It contains a lot of publicity, but it lets you play. Another similar one that we can also try is Xmas Piano
This is another well-known music game with which we must press some pieces that move through the different tracks to the rhythm of the music. This version is specially designed to play with the Christmas songs.
It is a game that can be too complicated for the little ones because it requires great dexterity with the fingers. In addition, in order to unlock more songs we have to increase the level, which gives it greater difficulty. Although the sound is that of the piano, it has nothing to do with its keys as in the previous game that we mentioned.
Simple puzzle game for children but in this case with a selection of Christmas images.
If we want to enjoy all the puzzles and eliminate advertising we must move to the paid version. But in the free one we can play with at least 6 different images.
We can find several more, such as Puzzle de Navidad para niños o Rompecabezas De La Navidad.
Children like to color and this application brings many different drawings, all of them with Christmas motifs.
You can color the drawings and send your design as a greeting to family or friends. Free application with lots of designs of Santa Claus, reindeer, Christmas trees, gifts, elfs, snow, etc. Another similar option is Libro para Colorear de Navidad
Children's game to initiate children in medicine with Santa Claus as a character to take care of.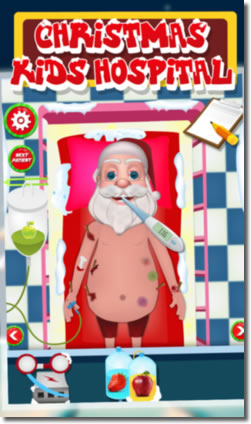 Ideal for children aged 2-6 interested in medicine and body structure, although it can be entertaining for anyone.
A game where the little ones can comb and make up the different Christmas characters. Then they can share their creations with family and friends.
Another similar version is found here: Papá Hair Saloon
Collections of Christmas games
In addition to more or less specific games like the ones mentioned above, we also find applications that collect different mini-games, all of them related to Christmas.
Some highlighted by the number of users and their comments are: