It is not the first time that this scam attempt appears in which they make us believe that Google Chrome is going to give us an iPhone.
Currently it is an iPhone 8 and it's that, apparently, we have been chosen at random by Google and we are part of a privileged group of 10 people who will be given a fantastic Apple iPhone 8. As a curiosity, do not forget that Apple is the direct competitor of Google, which can make us suspect that something "fishy" is going on.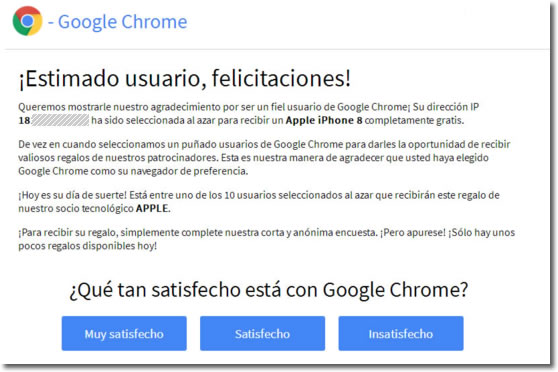 "We want to show our gratitude for being a faithful user of Google Chrome! Your IP address 18x.xxx.xx.xx has been selected at random to receive an Apple iPhone 8 completely free ….."
The origin is a pop-up box that appears while we are browsing. Well, when entering a Web page of dubious origin or motivated by any suspicious extension that we have installed in the browser.
It is clearly a scam
At first we are only asked to answer a small survey of several questions related to our opinion about Chrome.

After answering three different questions, a page will open up for us to Claim our prize. But now, that prize appears with a cost of 1 dollar.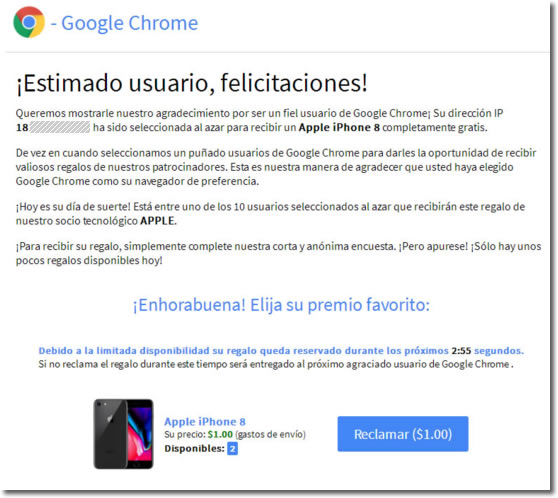 If we go ahead, another pop-up box will appear indicating that the gift has already been reserved.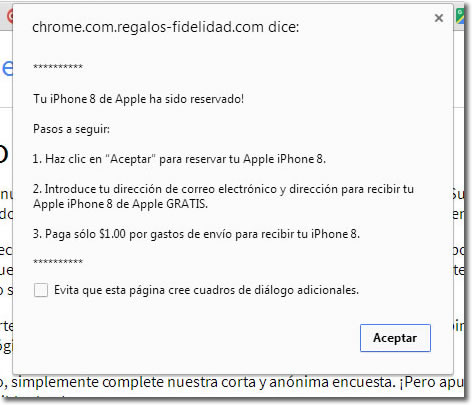 If we accept, we will be taken to a page that has nothing to do with Google or Chrome (see the domain highlighted in red) where they start asking us for personal data.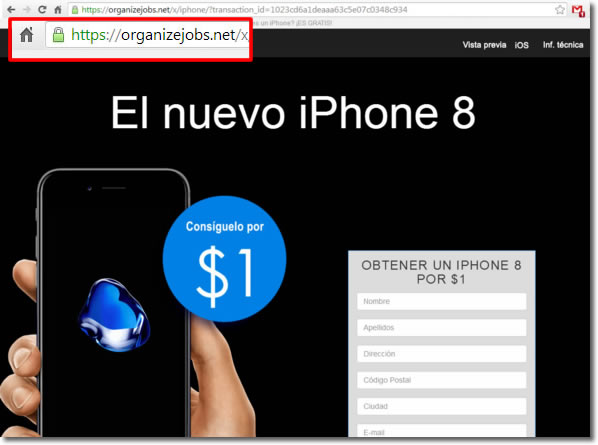 The only reason they ask us for this information is because they need it to subscribe us to a Premium SMS service. If we give it to them, we will receive one or several daily SMS messages with irrelevant information or simply advertising that will cost us a few euros per month.
In order to maintain legality, this type of service must indicate in its fine print what its purpose is. And so it does. If we read carefully its terms and conditions, we find that it is thus declared. But who reads these long texts of technical verbiage?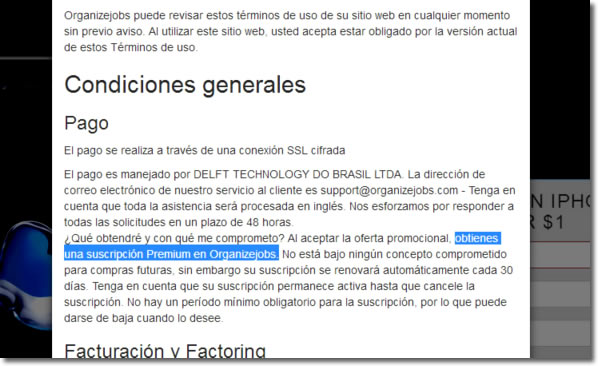 If we agree to give our information, we will contract this service and it will cost us a good amount of money at the end of the month. Of course, we will not receive any iPhone as a gift.
But there is more. If after giving our personal data we continue with the process, the system will ask us to pay the necessary dollar to receive our gift. They will ask us for all our credit card information, including the CVV security code.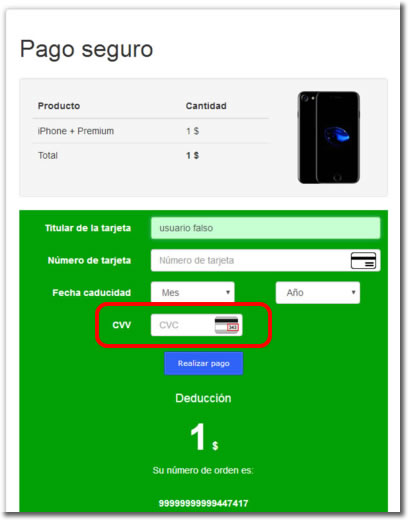 If we give them, it is possible that our online payment data ends up being used by someone to make purchases on our behalf. Very likely they will end up being sold to the highest bidder on the black market of the deep Internet.
We can verify that there are many users who have suspected the authenticity of the ad, but at the same time have come to believe that it could be true. We just have to review this Chrome help forum in Spanish to see the number of users who ask about this "possible gift".
What we do not know is how many people must have fallen into the trap without even asking.