One of the possibilities that Android phones have is that we can use them to record video in a totally silent way, without giving any kind of signal when recording and even when the screen is locked and turned off.
To turn our Android into such an interesting tool, but also dangerous, we just have to install some of the applications available in the official store that allow it. The one that stands out from others for the number of downloads and the high rating is Background Video Recorder.
The truth is that in the tests we did it worked perfectly. It fulfilled what was promised and all the options we tried did what was expected of them.
It is designed to spy
Judging by all the options it has to hide its use, this application is definitely designed as a tool for spy recording videos.
However, it could also be interesting to record long videos with the screen off, which would save a considerable amount of battery life.
It allows recording with the front or rear camera and of course, with sound. We can activate its operation discreetly just by pressing a widget type icon from the desktop, without any sound that betrays it and then turning off the screen.
You also have the option to set the time at which a recording is automatically turned on and the duration of the video you want to capture.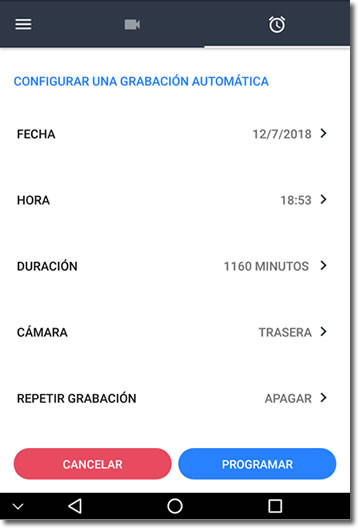 Featured application options
To get the most out of this application, we should review the options that we will see in the left side menu. There are many, but we will mention only some outstanding ones.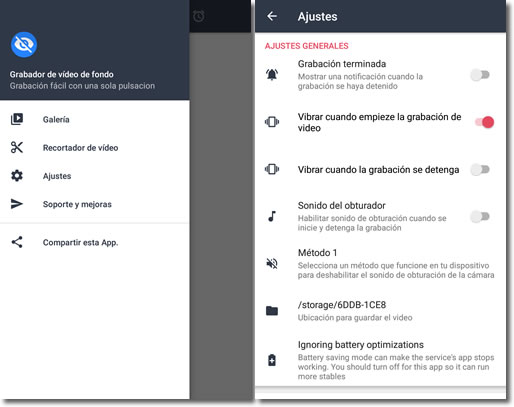 At the end of the section of 'Settings' section we find the language section and we can choose

Spanish

.

We can eliminate all types of

notifications

that indicate that a recording is in progress or has already been made.

It is also possible to eliminate the typical

shutter sound

that cameras usually emit when we start a recording.

If we have an

SD card

, we can configure the application to store the files there and release the internal memory of those recordings.

If we do not require a high quality video, perhaps we should use the option to set it to smaller values. This way, our available memory can contain many more minutes of recording time.

We can change the

icon of the application

for another that does not raise suspicions.
Widget icons

can be placed on the desktop to immediately trigger recording for both the front and rear cameras. We can even put whatever image we want on those icons so that they go completely unnoticed.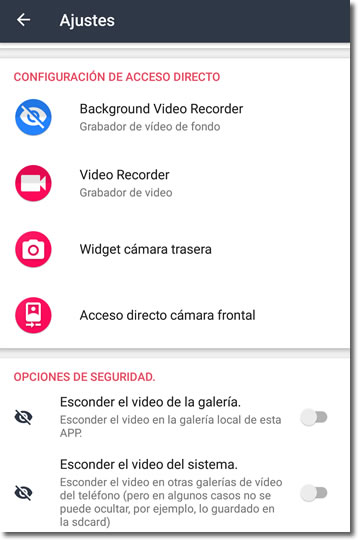 If we save the videos in the internal memory, we can

hide them

so that they are not seen in the image management applications. This option does not seem to work if you save them on the SD card.

We can protect the use of the application with a

password

so that no one can find out its true function.
This application can work perfectly to record videos in a hidden way, but remember that other Android users can also know the tool, so we must be alert to suspicious attitudes of whoever we think may have an interest in recording us.
In addition, remember that obtaining personal images without consent can constitute a serious crime for violating people's privacy. So, whoever decides to use these tools of dubious legality must do so at their own risk.