(Note Sep-2017: It seems that the behavior is currently different from the one explained in this article, now the phone files do disappear when we delete the source chat)
The files that we send and receive through Whatsapp are stored in the memory of the phone even if we eliminate the conversations, something that surely not all users know.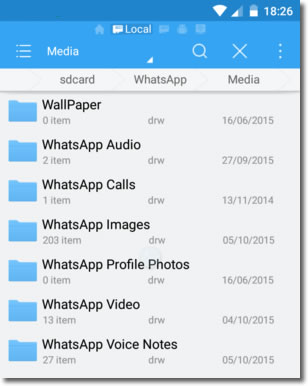 The most used messaging service currently is Whatsapp and the vast majority of us use it daily to converse with many people individually or in a group. Throughout the time we will surely have sent or received multimedia files, such as photos or videos, which could compromise us if they were seen by other people.
Although Whatsapp offers different ways to delete comments and chats, we should know that in most cases files that have been stored in the phone memory will remain there until we delete them directly.
Ways to remove conversations
If we decide for some reason that a sustained conversation should not remain in the application, we can choose from three ways to eliminate it.
By clicking on a chat in the chat list, a menu appears allowing us to 'Delete chat'.

This method completely eliminates the conversation, but does not delete the pictures and videos, nor the sent or the received ones, from the phone's memory. Instead, it does delete the voice files.
Once inside a chat, we find another possibility in 'Menu> More> Empty chat'.

This method does not delete the conversation, but it does empty its content from the beginning. But like the previous one, it does not delete the multimedia files either sent or received.
The only way to remove photos and videos from a conversation is to continuously click on them until different options appear, such as a trash
can at the top.

If you delete them by clicking on the trash symbol, it will also disappear from the phone memory.
Why remove these files
The reasons for removing these files that are being stored and which we are not aware of are essentially two:
Privacy: As already mentioned, some image files can become "very private" and cause us great harm if they are seen by other people.
Capacity: no matter how much memory current phones have, the number of videos, audio and images that usually reach us will cause us
to occupy it sooner or later. In reality, a lack of memory is usually one of the most common problems in mid or low-range devices and most of the
time the cause is the accumulation of these files.
How to erase them easily
In both Android and Windows, we can find them in the folders where they are located and delete them directly. We can use some application to access the
structure of folders in memory, such as ES Explorer for Android. Also from the 'Gallery' application we should have access to all these files, although we may find it uncomfortable if they do not appear correctly organized by albums.
In the case of Android, it is very convenient to use some application that allows us to see and delete only the files stored in the Whatsapp folders, so at a glance we can choose what to delete and what to keep saved. For example,
Free application that is very simple to handle. Displays the different types of saved files by accessing each group through colorful buttons.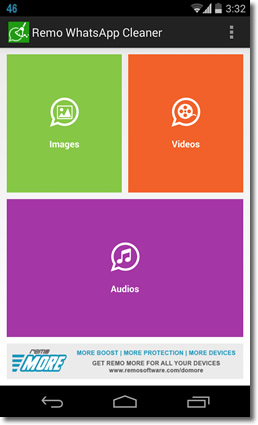 One of the most used and best valued applications for this purpose, that has been a long time in the official store for free.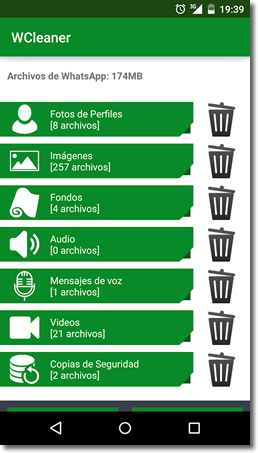 These methods of deleting files are valid if what we want is to "remove these files from view", but remember that files that have been removed in an unsecure way remain in memory and could be recovered with more advanced systems of tracking. If this concerns us and we use the Android system, we can use one of these methods to permanently remove them..
In the iPhone we have to search the files using the 'Photos' application and delete them from there, since we do not have access to the  structure of the storage folders.