One of the most frequent and most worrying inquiries we receive is whether the conversations with WhatsApp that have already been deleted can be recovered in some way.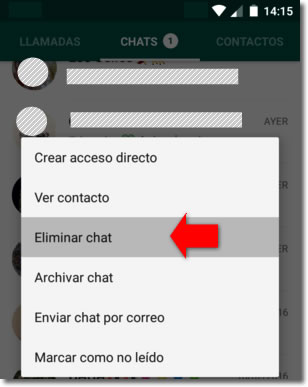 We know that the application makes backup copies of our chats and that from there it is possible to recover conversations maintained in the past, as long as they are stored in those copies.
What many people want is to permanently eliminate conversations so that nobody can ever read them. The reasons for procuring this privacy are usually related to the fear of espionage by someone close to them, but also to the fact that they use the application to talk about absolutely personal and compromising topics, something that is not advisable when dealing with means that work through Internet.
What we need to do to make sure that our conversation is not recoverable is to either erase it before it is stored in the backup copy or to delete the backup copies that might contain it.
Delete it before it is saved
If we keep a compromising conversation and want no trace of it on our phone, what we should do is erase it before the automatic backup is performed, which is carried out daily and always at night.
To erase it we must press and hold in one of our chats from the main page and we will see how the possibility of 'Delete chat' appears, as we can see in the image above.
The deleted chats will not be saved in the backup copy and therefore it will not be possible to recover them in any way.
N.B.: deleting a chat does not imply deleting the photos, videos or audio files that the conversation might contain. It is convenient to delete them from the chat itself before deleting it or use a file manager later to check the contents of the WhatsApp folders. Although this elimination is not entirely safe, as we previously explained in this article.
Delete backup copies
If we think that a compromising conversation may have been saved in the backup, it will be prudent to delete the files from those copies.
We can know at what time the last backup was made. In the case of Android, we must go to 'Settings > Chats and calls > Backup'. In other systems the place is equivalent, but the sequence may be different.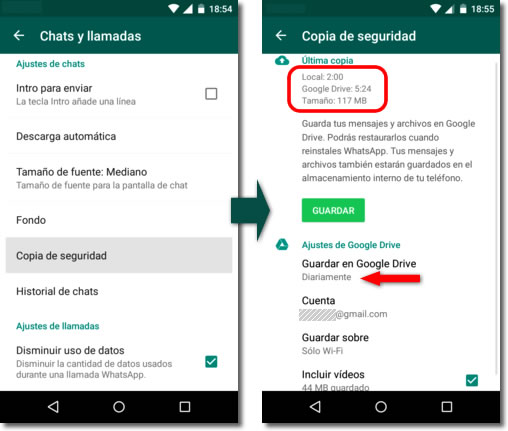 In the case of Android, we see that there can be two copies, the one that is saved in the phone memory and the one that is stored in the cloud, in Google Drive.
Delete the copy in the cloud

: as in Google Drive (iCloud on iPhone) only the last backup is stored, it will be enough to

manually create a new copy after deleting the unwanted conversation from our list of chats. If you force recovery with that copy, the conversation will no longer appear.


In the case of Android, in addition, we can

delete the copy of Google Drive

if we want to cancel this possibility of recovery. To do this we must access our Google Drive and follow the following sequence, 'Gear icon > Settings> Manage applications > Whatsapp > Options > Delete hidden application data'.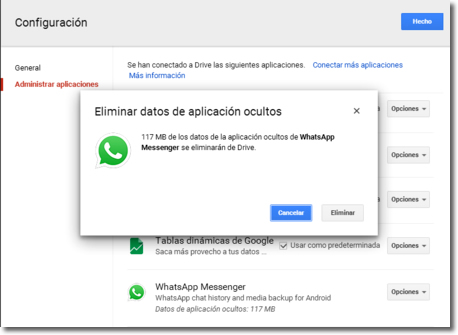 Delete the copies of the phone memory

. We can also

force a new copy when we have already deleted the unwanted conversation and confirm that it really changes its date to today.


In the case of

Android

, the system does not only save the last backup file, but stores the last nine files, so we must make sure to eliminate them all if we want to have more security.

Through a file browser, we must access the phone folder … / Whatsapp / Databases / and delete all its contents or keep only the last copy we have made manually.
The actions described eliminate the backup files with which the system can be restored after a reinstallation. Therefore, what we have seen, prevents someone from recovering unwanted conversations just by reinstalling the application.
But let us make it clear that messaging systems are vulnerable to their security and therefore are never absolutely reliable in their privacy. There are many ways in which someone could spy on our conversations.
Through a malicious program installed on our device capable of spying everything we do in a silent way and facilitating it to those who spy on us.

By connecting through Wi-Fi networks that could be intervened in order to intercept our conversations.

Our own mistakes of overconfidence, such as the possibility of 

leaving our WhatsApp Web session 

open on a computer or tablet.

The loss or theft of the phone without having configured the necessary means of protection to safeguard your information.
Let us convince ourselves, these means of communication are not the safest to engage in dangerous and compromising conversations.