Google, through one of its subsidiary companies, has launched the Grasshopper application for mobile devices designed to facilitate the learning of javascript, one of the most interesting computer programming languages of the moment.
The company has the name of Area 120, but is part of the Google complex. We can see the presentation on its website, where we will find links to install the application on both Android and iOS devices.
As it is usual in their creations, they have taken great care of the appearance and presentation of the application so that it is striking. In addition, its operation is very intuitive and easy to use. Through funny graphics where a small grasshopper shows us the evolutions, anyone interested in learning javascript programming can progress through the different exercises.
As if it were a game of achievements, we advance through screens that show us our evolution. The exercises are well explained and are so easy to perform that we hardly have to use the keyboard to write code. The possible answers are already written, we will only have to press them, although we must have understood the structure of the language so as not to make mistakes when choosing between the options that it shows us.
Who is it for?
Google has already shown on other occasions the interest it has in its users to be introduced into computer programming from a very young age. For example, it has the page Made with code of which we already talked about some time ago where we can learn our first steps in programming using the graphic block system.
Both this page and this new Grasshopper application are aimed at the public of all ages, but the interesting thing is that they are so intuitive and entertaining that they can be attractive to young people from an early age and even children.
Learning to program in this eminently technological world in which we currently live is undoubtedly interesting and with security it is a fundamental advantage from the labor point of view. In addition, the tasks of computer programming develop the mind, helping us to address problems in a structured way and to provide solutions to problems in an orderly and efficient way among other advantages.
How does it work?
The main features that make Grasshopper an interesting application over other methods are:
Simplicity

. Its use is very simple, based on simple exercises at the beginning with which we move forward and learn the main concepts that we will use in more complex proposals afterwards. With hardly any writing, the answers to the exercises are with simple keystrokes.

On the mobile device

. Unlike other methods for learning to program that we have talked about on other occasions, this is done entirely from a mobile application. Its use is more attractive to new generations and allows the convenience of using it at any time and place.

As a game that evolves

. The system of achievements and levels exceeded that are stored in our evolution allows us to move forward by dedicating time periods adjusted to our availability. At any time we can dedicate a bit of our time and our progression will be recorded.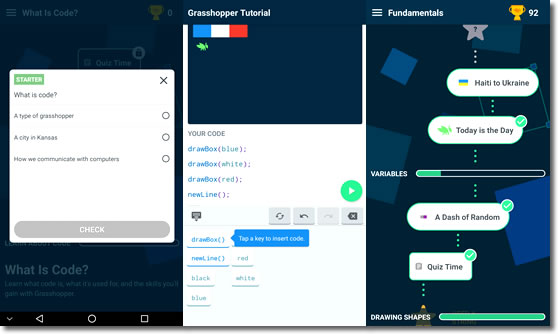 The only drawback that the application presents, at least for the moment, is that it only works in English. But this, before seeing it as something negative, we can think that it gives it a positive value.
In this way, in addition to learning programming in the most widely used computer language such as javascript, the user will obtain a greater vocabulary of English, which never hurts. In addition, the level of this language used in the application is very simple, understandable by anyone who has started in it.