As a follow-up to our previous post where we tried to facilitate the Facebook privacy settings for the 'share on facebook' section, here we can find suggestions for configuration sectors not yet seen.
To get to the corresponding section we follow the following menu line, starting at the upper right corner of the page: Account> Privacy Settings> Customize settings.
Now we focus on the central part of the screen, in the two sections, "Things that others share" and "Contact information".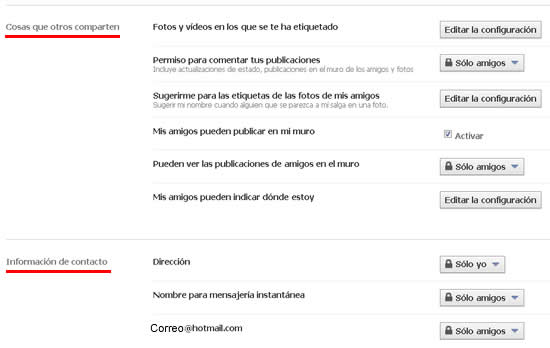 Things others share
Photos and videos in which you have been tagged.
To see the options, you have to press the corresponding button 'Edit settings'. A small screen appears where we recommend choosing 'Friends Only'.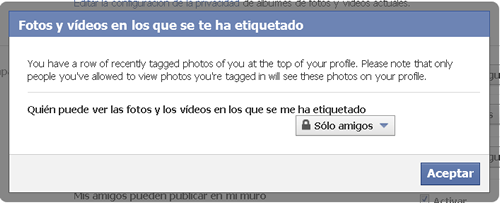 Permission to comment on your posts.
We directly select 'Friends Only'. We allow our friends to comment on our actions, publications, photos, etc.
Suggest as for the labels of the photos of my friends.
It corresponds to one of the latest tools included by the social network, facial recognition. When you give 'Edit settings' a dialog appears where we can select 'Function Off'. If we leave it on, it will allow it to recognize our image in the photos that others upload to the network and suggest our automatic tagging.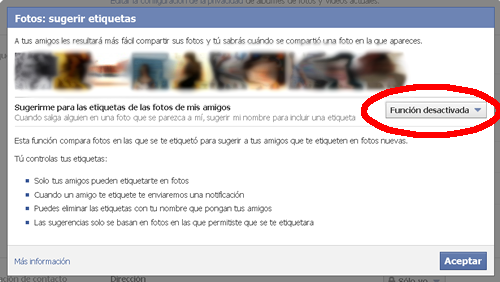 My friends can post on my wall.
We can leave it on 'Activate'. It allows our friends to insert comments on our wall, as well as make comments that were already allowed in a previous option.
They can see friends' posts on the wall.
We select 'Friends only' to restrict people who can see the posts posted on our wall by the friends we have allowed before.
My friends can indicate where I am.
The place where we have been can be a confidential information and therefore we advise not to activate it, we will give to 'Edit settings' and we will select 'Deactivated'.

Contact information
Esta última sección la configuramos como indica la primera imagen de esta página.
'Address'.
Because it is very sensitive information, it is not convenient to make it public for anyone, we do not know who can get to see it, so we configure it as 'Just me'.
Name for instant messaging.
Email.
The last two sections are configured with 'Friends Only' in order to communicate with them both by email and chat.
More about privacy in Facebook
Facebook. Configurar tu privacidad – 'Conectar en facebook'
Facebook. Configurar tu privacidad – 'Compartir en facebook' (I)
Facebook. Configurar tu privacidad – 'Aplicaciones y sitios web'