Adding a Gmail or Google account to an Android means personalizing it, adding personal information linked to us, such as calendar contacts, emails, photos, and many other data that are only available under our username and password.
Linking a phone to an account is initially very simple, because when you launch it for the first time a wizard tells you how to do it, besides it being obligatory in order to use all its functions.
Es una de las consultas más habituales realizadas por nuestros lectores, no resulta fácil encontrar el lugar exacto donde eliminar una cuenta en Android. Veamos el modo de hacerlo.
But on many occasions the need arises to eliminate that initial account because, for example, we are going to sell or give away the terminal or we simply want to use another account that we may have.
It is one of the most common queries made by our readers, as it is not easy to find the exact place to delete an account on Android. Let's see how it is done.
Deleting the account on Android
We must enter the 'Settings' section. To do this we will press the icon that we will find in the same place where we see all the installed applications. (Do not confuse it with the 'Google Settings' icon).
Depending on the version of Android installed, the settings icon may have different aspects.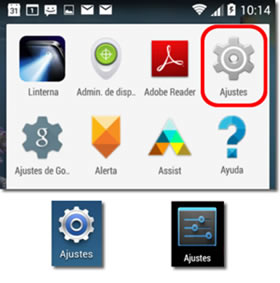 Within settings, where we will see a long list of sections, we look for the one that refers to 'Accounts' or 'Accounts and synchronization'. 'Google' should appear.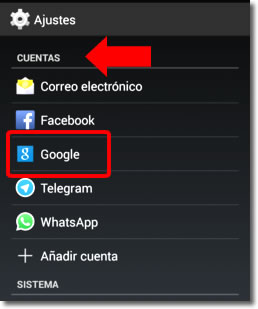 We now click on Google and the account that we have configured on the phone will appear. Several could appear if we have included them in our device. It shows us the address of the Gmail email corresponding to our account.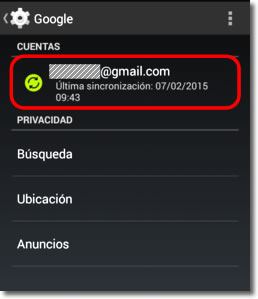 We will touch on the account that we want to remove, in the case of the image shown, the only Google account installed. Finally, we'll see all the Google functions that are being synchronized on the mobile and a small drop down menu somewhere. This menu is sometimes hard to find. Depending on the model in question, it may be in the same place that is shown in the image or could be somewhere else, even on one of the 'fixed' buttons that Androids usually have in the bottom.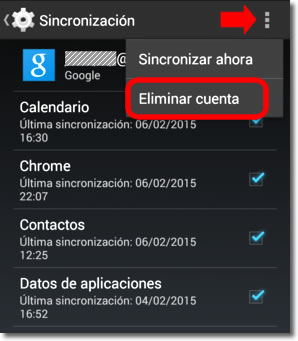 We just have to click on 'Delete account' to delete it from our phone.
It is important to know that, if at any time we need to delete the account from the phone but we no longer have access to the device, we can cancel all its synchronization functions just by changing the access password, which will have a very similar result to its elimination.
We can see here how to change your Google password.