We've already talked about Whatsapp's privacy settings on other occasions. It is a subject of great interest and generates numerous questions from our readers about how to view or hide information from other users in this messaging service.
Getting to know if the other person has read or not our message is often turned into an often unsuccessful exercise of espionage, since that person may have configured their privacy so that others do not even see when the messages are read (double blue check) nor when they connect.

Android users have an ally that will greatly help Whatsapp spies in the task of knowing when one of their contacts was last logged on. What's more, they will not only know the last time, but all the times they were connected and their duration, even if they have configured their privacy to hide their last connection and even blocked the spy.
The application is called WhatsDog and although its function is to skip the privacy measures established in a third party application and with that it would surely touch illegality. Currently it is no longer available in the official store, but we can find it in other stores where they offer applications for Android.
Its function, which it completes perfectly is, as we have already mentioned, to record the connection periods of a Whatsapp user that we choose, it also notifies us with a notification each time it is connected. And it can do it even if that contact has configured to show their 'last connection' to 'nobody' and even if we have been blocked.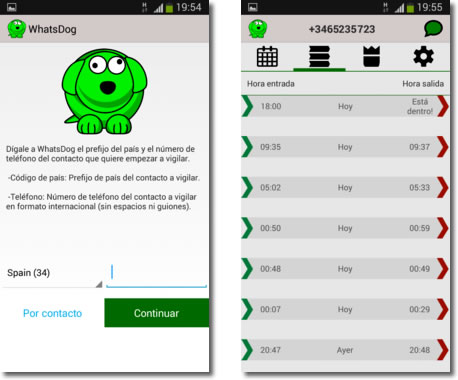 Its configuration is minimal once installed, by simply indicatinge the number that we want to monitor by choosing it from the list of our contacts. As soon as the user of that number connects to his whatsapp, it will start notifying us and recording the connection and disconnection times. It even keeps the data of all the days of surveillance that we can later review on a calendar. Among its configuration options it has the possibility to eliminate notifications that can become annoying if our objective is very active. The free version has persistent advertising, but fulfills its function. I do not know the advantages that the payment of the donation proposed in its options can bring and if this eliminates the advertising.
As I said, I think this application is a tool of dubious moral, as it subjects our chosen contact to unethical surveillance, also violating their right to privacy that they can choose in Whatsapp.
But the fact is that it is there and we must all know its existence as long as it works, since any of us can become victims of this espionage and I think we should all know it.