The tool that allows us to use Whatsapp on a computer is great and very functional. We can perform almost any action of this application but with the convenience of a larger screen and the use of the keyboard and mouse.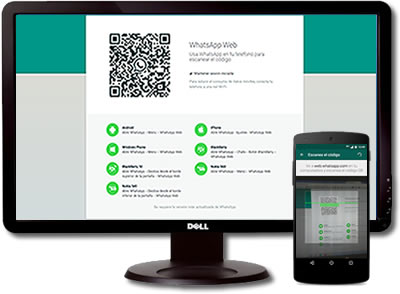 But Whatsapp Web, which is how the tool is known, can become a major problem for our privacy if we do not manage it correctly.
In order to use this service, we must "link" our phone with our computer, specifically with the browser that we use to view Internet pages, be it Chrome, Firefox or any other of the most widespread.
That linkage, if we do not configure it properly, it will remain active indefinitely and anyone who accesses that computer will be able to read our conversations and even interact with our Whatsapp freely, even if our phone stays in our possession.
Logically, this possibility represents an important gap for our privacy, so we must take appropriate measures to prevent it as long as our computer can be used by other people and we want to keep our privacy.
Deselect so as not to remain logged in
If we use Whatsapp Web on a computer that other people can access, our conversations will surely be available to them at any time if they access the website that offers the service. If they are people of total confidence, we may not care. Or if our computer has a screen lock with password that nobody knows and we always remember to activate it in our absence, nor will we need to worry.
But if we are not completely sure, we should make sure that the synchronization with our phone is canceled when we close the page.
When we first connect our whatsapp with a computer, we should visit https://web.whatsapp.com to read our code with our phone. This is where we can choose if our link is indefinite or will be canceled when we close the page.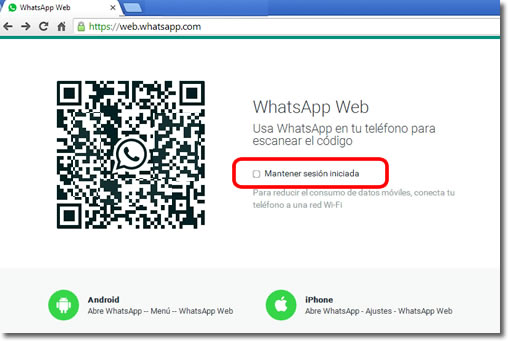 The problem is that the box that indicates that our session should be active indefinitely is activated by default.
If we want to ensure our privacy, we must uncheck the checkbox before reading the code with our phone. This will cause the page to finish synchronizing between the computer and the phone and we should re-read the code to re-establish the link again when we want to re-link it.
Obviously it is uncomfortable to do this every time we want to use it, but it is the only way to ensure the intimacy of our conversations if we have no other means.
Sign out of Whatsapp Web
If we do not deactivate the box at the beginning of the session, we can force the finalization from the page itself. Just open the menu that appears in the upper left with three points and click on 'Close session'.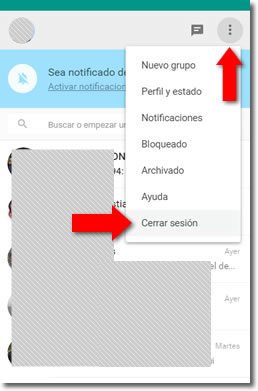 Sign out of Whatsapp Web remotely
And if we are not sure that we have closed all the sessions that we have been able to open in computers, the application for the mobile device has a very interesting function, the possibility of closing all open sessions that we have at that time.
We find it in the Whatsapp menu, Whatsapp Web option and we should look for it at the bottom of the screen.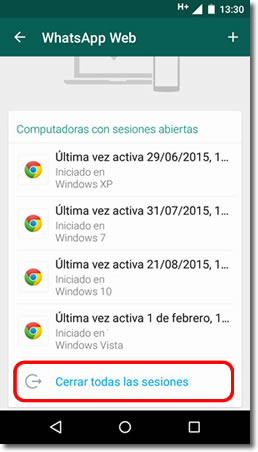 This action will disconnect our Whatsapp from any browser that has been synchronized with our phone, which guarantees that nobody can read our conversations.