Recently a new feature has appeared in Whatsapp that allows to show small ephemeral videos. We will find it in what they call Status.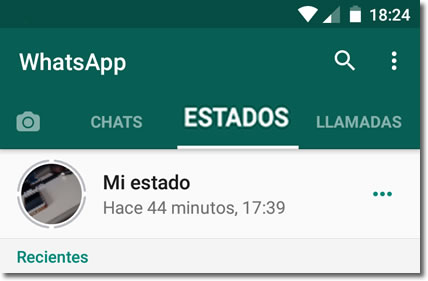 Until now, the status in Whatsapp consisted of a simple phrase or small message associated with our profile that was shown next to our photo. It was constant as long as we did not modify it and we could choose to be seen by all users, only our contacts or nobody.
What is the Whatsapp status now?
Following this latest update, the world's most widely used messaging system has a similar function to those that Instagram and Facebook have previously incorporated. Both social networks and Whatsapp belong to the same company and it seems that its managers have decided that "ephemeral stories" are a service valued positively by users.
These are small videos or photos that we can easily create using a new tool that incorporates the application. These photos and videos can be "decorated" with text and stickers to give them a touch of creativity. The source of the images can be both the camera and the files already saved in the phone. Then we can share the videos through the new way of the status so that they reach our contacts.
These videos or status photos will remain accessible for people who have received a maximum of 24 hours, or less if the author decides to delete them before. As authors, we can access our shared creations and check who has seen them.
How to create them?
We can access the status creation tool quickly by simply pressing the camera-shaped icon on the top left of the Android application or a circular icon on the bottom on iPhones. The active camera screen will be displayed with the shutter button and also the possibility of choosing a photo or video already saved in the phone memory.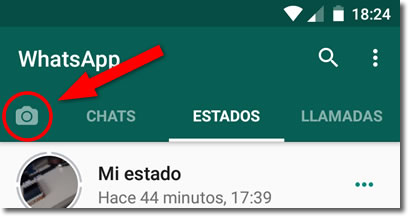 We can add a single photo by clicking on the trigger button or add a video if we keep that same button pressed. The video can have a maximum duration of 45 seconds.
Once the photo or video is taken, we will see some icons at the top with which we can add some effect, although at the moment the ones that appear are quite simple.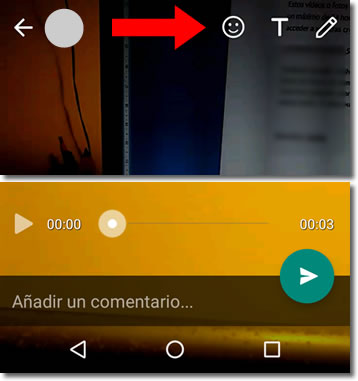 We will also see at the bottom a space to add a comment if we want. We will click the submit button when we have decided that we want to share the video.
We can create and share several and then enter the "My status" section to see who has seen them.
How to see them?
When one of our contacts adds a state, we will not receive any notification, so if we want to see the available creations we will have to enter the status section.
There they appear listed in chronological order. If we click on one to see it, the rest of the status in that list will be reproduced continuously. Pressing a status does not imply seeing only that contact. If we do not want to see the other status, we must manually cut the playback. Remember that the creator can see who has seen your videos.
We will also find the possibility to "answer" with a comment, but this one will reach the author via message in the chat.
Privacy – Who can see them?
It's important to know who will see our status videos before creating them. To do this we must access the privacy settings of the status and select the audience the video will reach.
We can find the section in 'Settings> Account> Privacy> Status' or directly in the icon of the three vertical points in the 'Status' section (in the case of Android, which corresponds to the following image).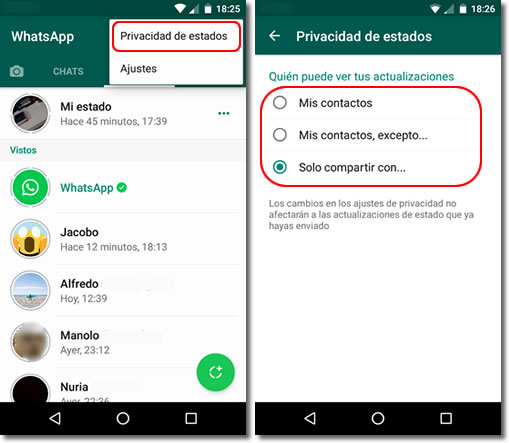 The application gives us the default configuration of 'My Contacts', so any creation that we publish will reach our entire contact book if we do not modify it.
Important: it reaches all our contacts, as long as they also have us in their book.
This can become very large and have people with whom we do not have an appropriate relationship to send "certain creations."
The options to choose from in privacy are three:
To all the contacts, that is to say, all the numbers that we have stored in the phone book and that use Whatsapp and in turn have us in theirs.
My contacts except…, to exclude only some contacts from all the ones we have.
Only share with…, this option allows us to quickly choose only some contacts to which our status will arrive
Once the status is sent, it is no longer possible to modify its privacy, although it is possible to delete it if we go to the 'My Status' section.
Special care should be taken when lending phones to children. The function of sending status is so simple that any child can make a recording and send it to our entire contact list in an instant and we probably will not even know what has been done.
It is also important to remember that these types of ephemeral videos do not guarantee at all that whoever receives them cannot make a copy. It is, therefore, not a good idea to use them for sending "sexting" type videos only because the application will eliminate them after 24 hours.
There are applications that allow you to capture everything that happens on the screen, not just the familiar screenshots in photo mode. They capture everything that happens in it, like videos that are played, creating in turn other videos that are stored in the memory of the phone.