"Brand clothing down to 90% off," is one of the recurring ads that appear lately on the Instagram social network. It directs us to a Web page where we can supposedly buy expensive clothes at suspiciously low prices.
The funny thing is that although the attempt to scam is obvious and the page clearly leads us to think it is a scam, Instagram admits to it and does not remove it, at least within a reasonable period of time.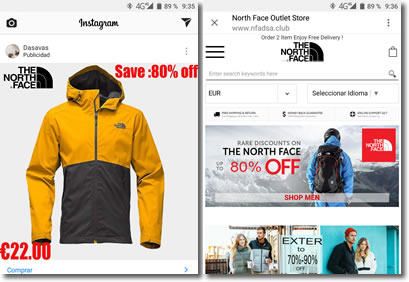 Dangerous advertising on Instagram
Any Instagram user will have seen that the advertisement appears interspersed in the series of publications when we scroll through the screen. One of the announcements that is appearing lately in a massive way is the sale of clothes of the well-known brand The North Face at scandalous prices.
The advertisement directs us to an online store with a multitude of articles from that brand. We could think that they have in it all of their references because of the large number of products they show. It also has a good presentation and a search system that is more than correct.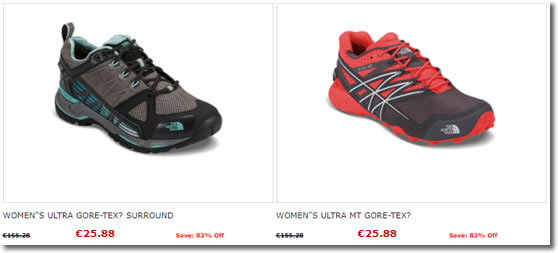 Any trusted user could think that he is in front a serious page, seeing that the announcement comes from a seemingly reliable social network.
The page to which it is currently taking us is http://nfadsa.club, active at least until the publication of this article. But these ads, and even others from other brands, can surely lead us to any other address, so it is not a relevant fact in this case.
Signs that should make us suspect
One only needs to superficially analyze some of the features of the page to realize that it is not a serious store. What it probably wants is to steal our bank details when we try to make the purchase, specifically our credit card with its security code included. But perhaps it is simply trying to get us to pay money for something of a much lower quality than expected or for something that will never come to us.
The prices of a brand like this one are never going to be so discounted, it is a clear

hook

to make those who trust fall for it. It is the first sign that should make us suspect.

Serious stores have their "secure" internet addresses. They start with

https://

 and appear green in the initial part the browser. This page

does not have a secure address if on the payment part

there is no

https://

, something that should always make us reject the purchase.

Neither reliable contact modes nor a physical address of where to find those in charge appear on the Web.

Its security icons, PayPal, cards, etc., do not lead anywhere.

Some other icons even lead to places that do not correspond to the supposed brand they sell but to others that they have probably used in other scams (links to social networks).

We can use the online reliability checker that we will find on this page:

 https://www.scamadviser.com/ 

and of which we have already spoken

on some other occasion. 

We will see, for example, that its reliability is terrible, the age of the page is only a few days and the estimated location in China.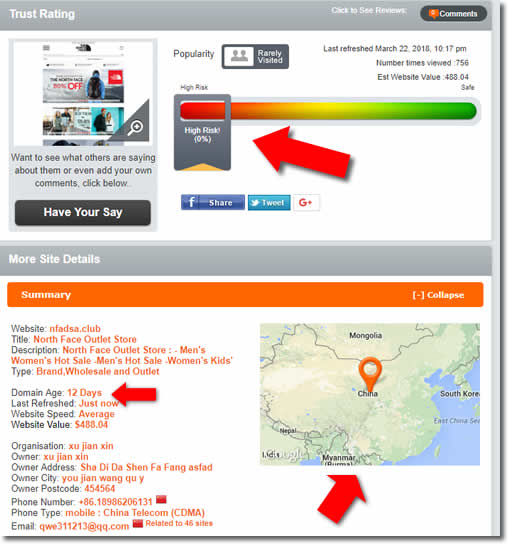 With this information we should have more than enough to definitely ignore the page and not trust it.
We must report it on Instagram
Although it seems incredible that Instagram accepts this type of clearly fraudulent advertising, it does not seem to be the first time. It is not difficult to find references on the Internet about similar previous cases.
Apparently, nobody checks the reliability of the ads that are published in this social network. At least in this case, its falsity is very evident and it's already been several days that this announcement continues to appear.
As Instagram users, we can try to contribute to the community and use the option that allows us to report the ad. We will find it in the menu of the three points in the same ad. The more complainants we are, the quicker the social network will supposedly respond and block the announcement, although we do not have many guarantees of this.